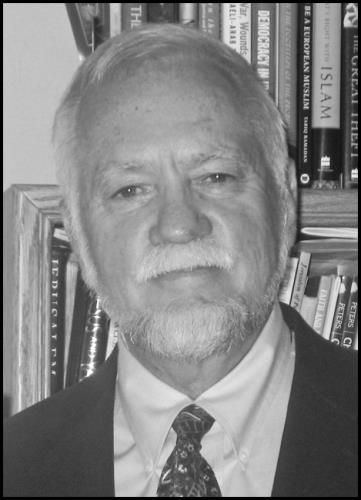 September 9, 1942 – July 20, 2018
Ron Young was born in Hoboken, NJ, September 9, 1942, and died at Providence Hospital, Everett, WA, July 20, 2018, from septic shock.
Growing up in West New York and Pacanack Lake, NJ, Ron attended College High and Wesleyan University.
Civil rights
He worked with civil rights leader Rev. James Lawson in Memphis, marched with Dr. Martin Luther King, Jr. in Selma, and joined the national staff of the Fellowship of Reconciliation in 1965.
Vietnam War peace movement
He played a leading role in the anti-Vietnam war movement – resisting the draft, coordinating the massive March on Washington in November 1969, and making three trips to Vietnam, including bringing Christmas mail between families and American POW's in Hanoi.
Middle East peace
He served as National Peace Education Secretary of the American Friends Service Committee from 1972-1982; and then as the AFSC's Middle East Representative, along with his wife, Carol Jensen, from 1982-85, based in Amman, Jordan.
When he returned to the US, he laid the groundwork for the formation of the US Interreligious Committee for Peace in the Middle East in 1987, bringing American Jews, Muslims and Christians together to advocate for a just two state solution for Israel and Palestine. He organized the first National Interfaith Convocation and Congressional Visitation for Mideast Peace in 1989 and led a dozen interfaith trips to Israel, the West Bank, Gaza, Egypt, Jordan and Syria.
Ron continued to work for Israeli-Palestinian peace until his passing, since 2003 under the auspices of the National Interreligious Leadership Initiative for Middle East Peace (NILI).
Books, publications, and speaking engagements
Ron is the author of Missed Opportunities for Peace: US Middle East Policy, 1981-86 and a memoir, Crossing Boundaries in the Americas, Vietnam and the Middle East. He authored many commentaries for the Everett Herald since 2013 and has blogged at Ron Young Views since 2016. Ron loved people, beginning with his family. Though he met many famous persons in his life – from Yasir Arafat to Hilary Clinton – he was known for striking up conversations with people in public places from museums to airports. He believed in the human capacity to make the world a better place for all, and, along with Dr. King, that "the arc of the moral universe is long, but it bends toward justice."
Family
He is survived by his wife, Rev. Carol Jensen; sons, Jonah Jensen-Young and Jamie Jensen-Young (Hena Parveen); sister, Judy Sproul; and grandchild, Omar Young. He was a member of St. John United Lutheran, Seattle, where Carol served as pastor for 19 years, and of Trinity Lutheran, Everett, since 2016. A memorial service and remembrance of Ron's life will be held on Saturday, October 6, 2018 beginning at 1:30 p.m. at Our Savior's Lutheran Church, 215 Mukilteo Blvd., Everett, WA.
In memoriam
Those who wish to make a tribute to Ron are encouraged to support organizations that continue the work for justice and peace, and bringing people together across lines that divide us, such as the Faith Action Network (of Washington State) at www.fanwa.org.